As a design expert, Anouk recognises good stuff when she sees it.
That is why she has selected items and experiences from brands that think alike
and have the same strong vision on aesthetics and quality.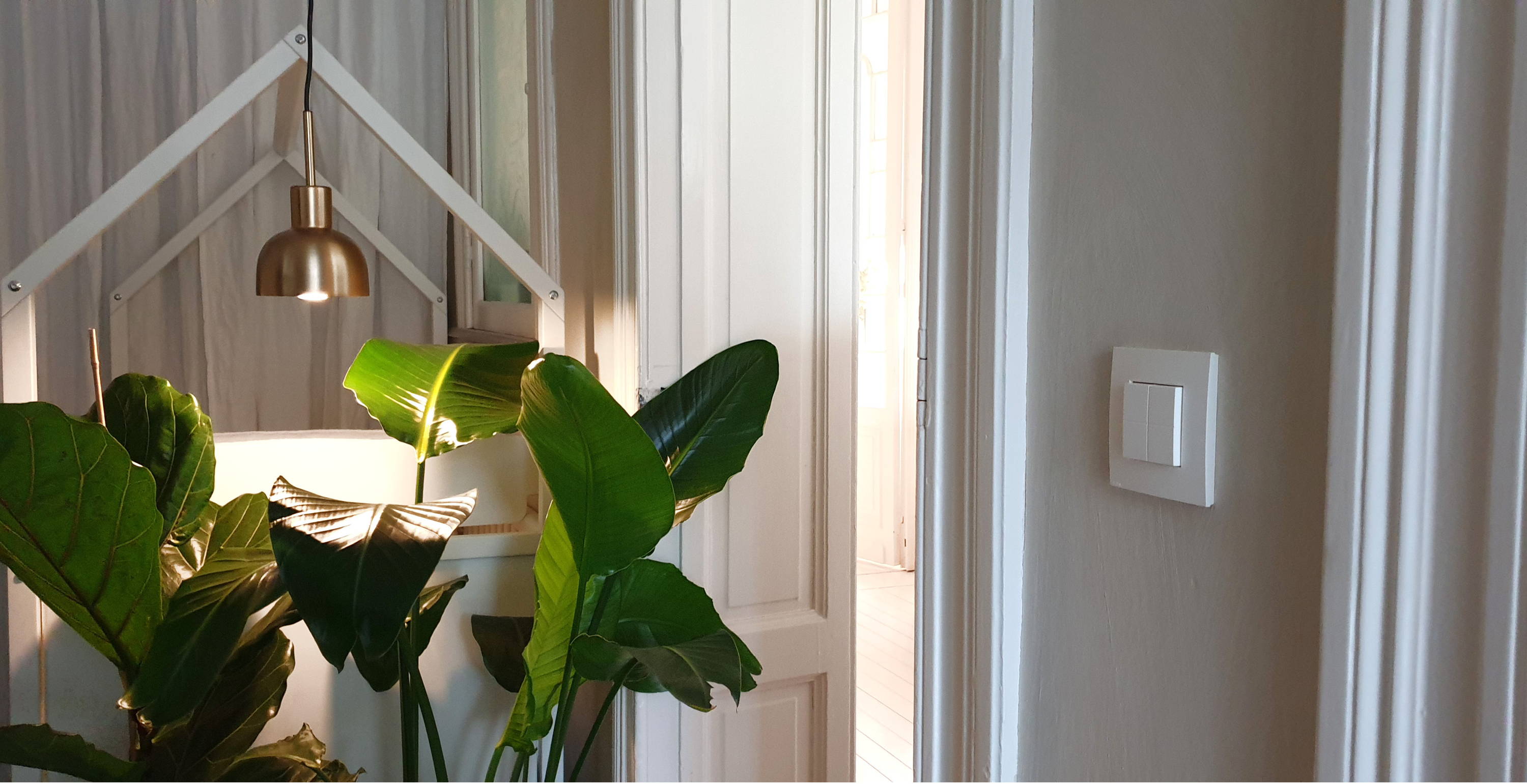 A few weeks ago we started (last-minute) with the design of the baby room, but quickly ran into a practical problem. Due to the refurbishment of the room, the light switch came to be hidden behind the baby bed which made it almost inaccessibly. Luckily Niko & Philips seemed to have devised an alternative solution, namely the Niko wireless dim switch in combination with the Philips Hue lamp.

Uncompromising on material, style and craftsmanship, this piece is handmade in HANDVÄRK's workshop and covered in velvet-smooth aniline leather by a local Danish upholsterer. The sleek black frame adds the Nordic essence to your interior. Let it be an exclusive design statement in your living room or hallway.
Did you know Anouk has a weak spot for beautiful lighting? This beautiful Flamingo lamp is her all times favorite. It creates a sense of intimacy when it's dark outside and has a sculptural presence during the day.
We are very excited about the Nespresso Lattissima One, our new -latte making- miracle. A well-designed coffee machine that shouldn't be hidden in a cupboard.With its sleek lines and soft, muted colours it blends right into your interior.On top of that, The delicious coffee taste and instant boost will upgrade your mornings right away!

Designed in 1977 by Vico Magistretti, over the years, Atollo has become the archetype of the table lamp, winning the Compasso d'Oro in 1979 and completely revolutionising the way we imagine the classic bedside lamp.
Anouk loves natural materials. Upgrade your outdoor terrace or create an indoor jungle vibe with the help of these stunning pots with a cool concrete finish. Their nice grey colour suits green plants very well. Use them when you want to create a cosy and welcoming atmosphere.
The eye-catching studio lamp has an industrial look that is directly inspired by traditional photo lamps. It creates a wonderful atmosphere – both with its magnificent light and minimalist design.
This Salt and Pepper set consists of two small, fine containers in brass which you can use as a wonderful detail on a well-set dining table or kitchen worktop. The tops are made of marble in a light and dark nuance respectively. These two will add the warm and elegant touch your table needs.
The Atollo Lamp, designed by Vico Magistretti, lets you fine-tune the atmosphere of a room in more ways than one. They give you additional light where you need it while also adding personality to your room.
Create a beautiful display with these decorative trays. The walnut tray in combination with a touch of brass and dusty green adds both warmth and atmosphere on a table or on a shelf. Remember, it's the small, decorative details that make the difference in your interior.
We are always curious for more beautiful & qualitative items or experiences.
Any suggestions? Send us an e-mail: hi@byanouk.com