ByANOUK is a graceful design label covering a variety of refined minimalist designs with a clever twist
Anouk shows how to merge creativity and technology into a genius and stylish symbiosis. Myshelf is a patented shelf - adjustable in length - that exists of small modular lamellas. Add more lamellas to get the desired length. With all kinds of add-ons like boxes, hooks, rails,.. Anouk made sure this Myshelf design is a - made to measure - innovation.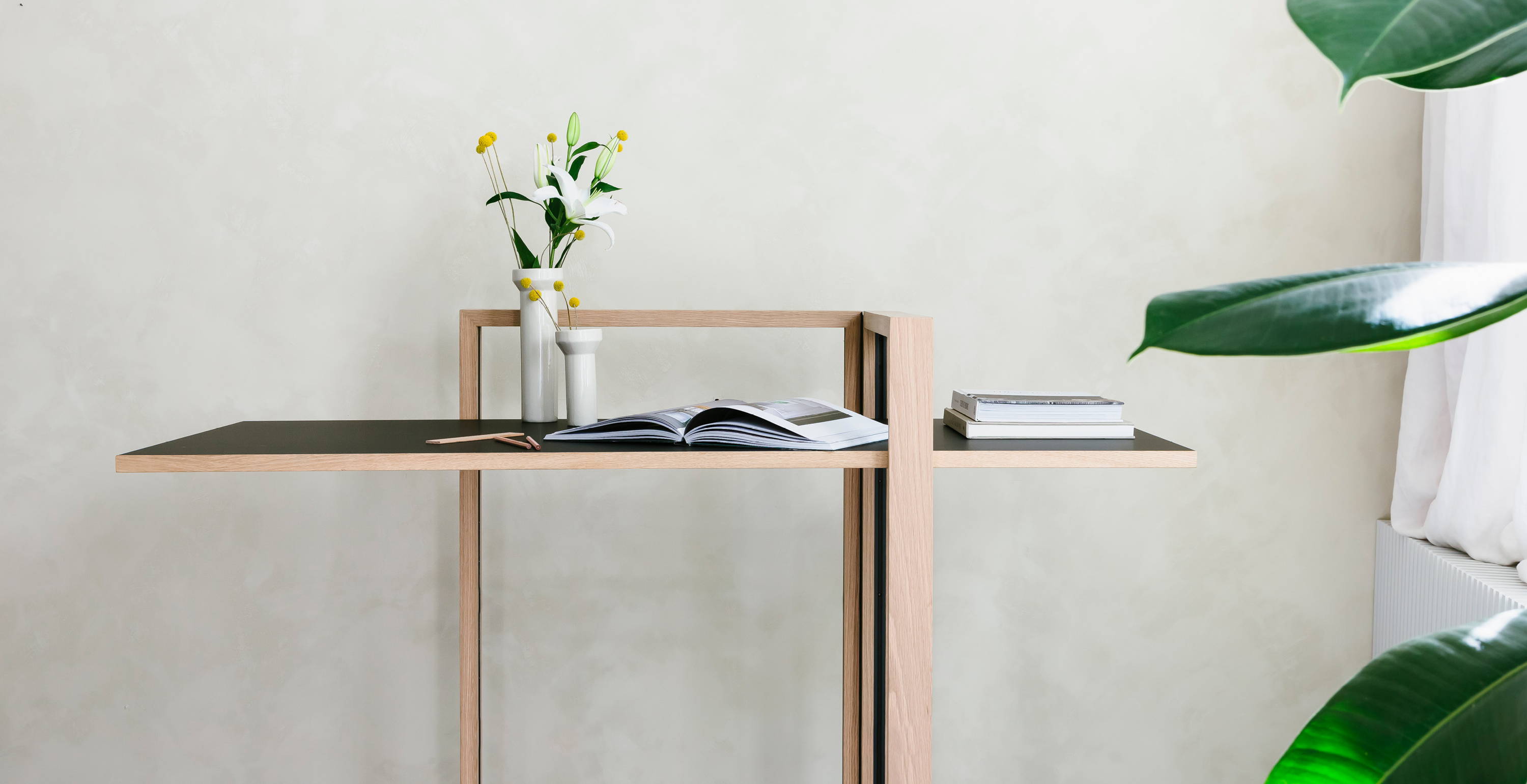 Today's desks are outdated. The Out Of Office Desk is a reinterpretation of the office desk: a modern desk that is adaptable, multi-functional and elegant. But above all it's a beautiful object that you do want to spend most part of your day on.

Even though Anouk is currently focussing on design and styling, her background as an engineering architect persuaded her to design this beautiful freestanding new built home surrounded by woods. The clients brief was to create a home with both a holiday feeling to it, a soul, a light colour scheme and a warm atmosphere. Their wish was our command. We're very much looking forward to the construction of the design that will start in the 2nd half of 2018.
Anouk's latest design is a minimal metal frame that can be used in 3 different positions to take full advantage of its shape. The 3 positions reflect three different table heights. This way, the table can be used as a standing desk and switched to a dining table or a coffee table within seconds.

With this subtle flower frame, Anouk found an unique way to display one flower in such a way nobody will be able to miss its beauty.

Every dog requires a peaceful and secure place indoors where he can retreat, preferably under a piece of furniture while dog owners are more concerned with the furniture's appearance and presence in the room. Pet pavilion combines these concerns into a very space efficient piece of furniture where form and function go hand in hand for the benefit of both the dog and his owner.

Portfolio of Anouk Taeymans' projects while studying civil engineering architecture at the Katholieke Universiteit Leuven (2005-2010) & working as an architect in Oslo, Norway (2010-2014)